Take a look to see whats new from our award winning online booking system for May 2021:
New Feature – Add an Image to Each Group on The Booking Widget
To further enhance your customers booking experience, you can now add an optional image to any groups you have setup as shown below:

New Feature – Add Ticket Types to The Attendee Report
For even more detailed reporting, a new optional field, TICKET TYPE has been added to the Attendee report.

New Feature – Ticket Description Added to The Ticket & Activity Page
If you are one of our users that has a lot of different ticket types, the addition of the tickets description on the ticket page as well as the activity ticket page will be a welcome addition to your daily use of Bookinghound.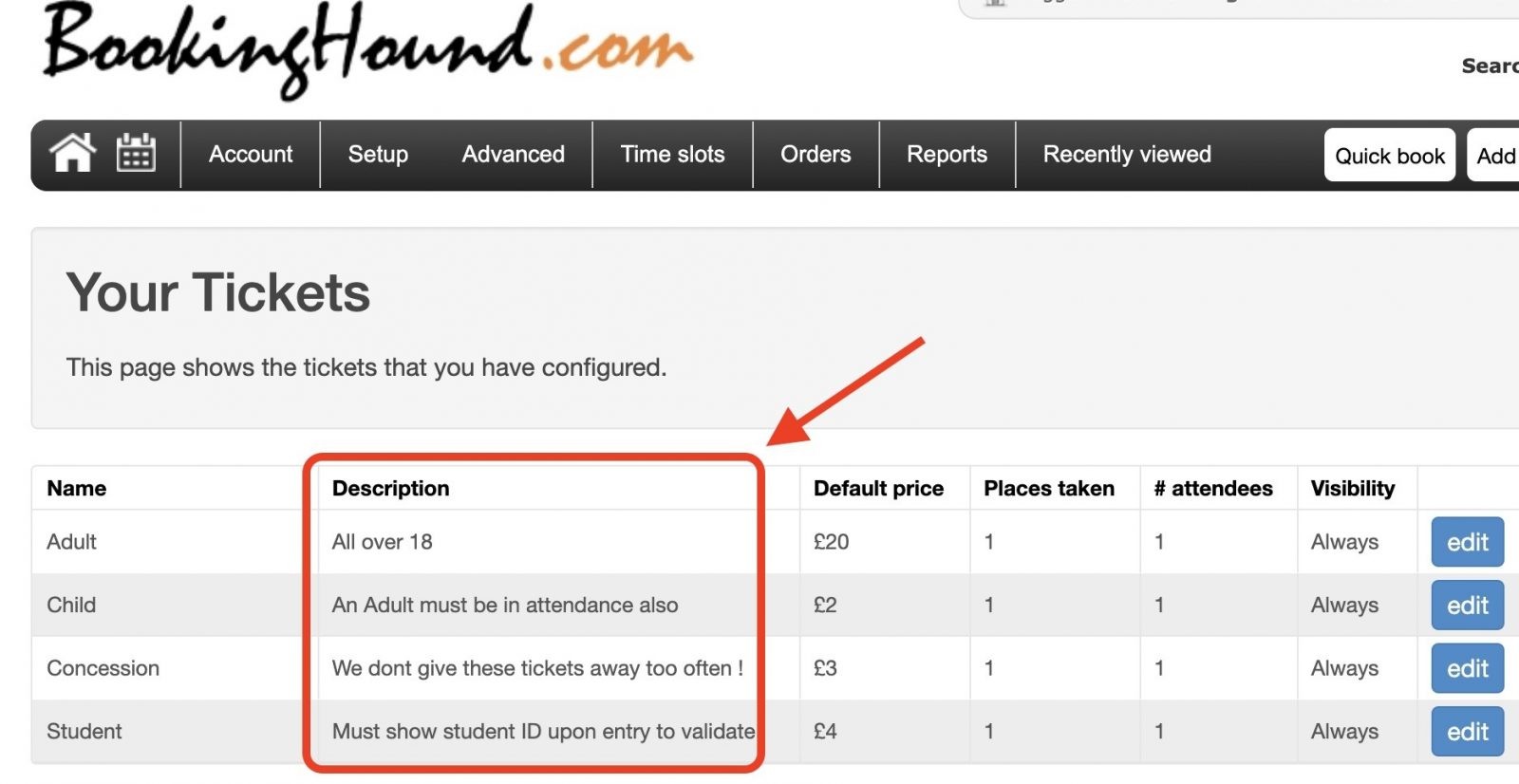 New Feature – Operator Update for Portal Changed Bookings
When your customer makes a change to their booking via the BookingHound customer portal feature, you will now also receive an email notification of this change.
New Feature – Hide Inactive Activities
Do you have lots of 'Inactive' activities/courses displayed which are cluttering up the setup page ?
if so, you can very easily tidy the page view by clicking on the Hide Inactive Activities button as shown below: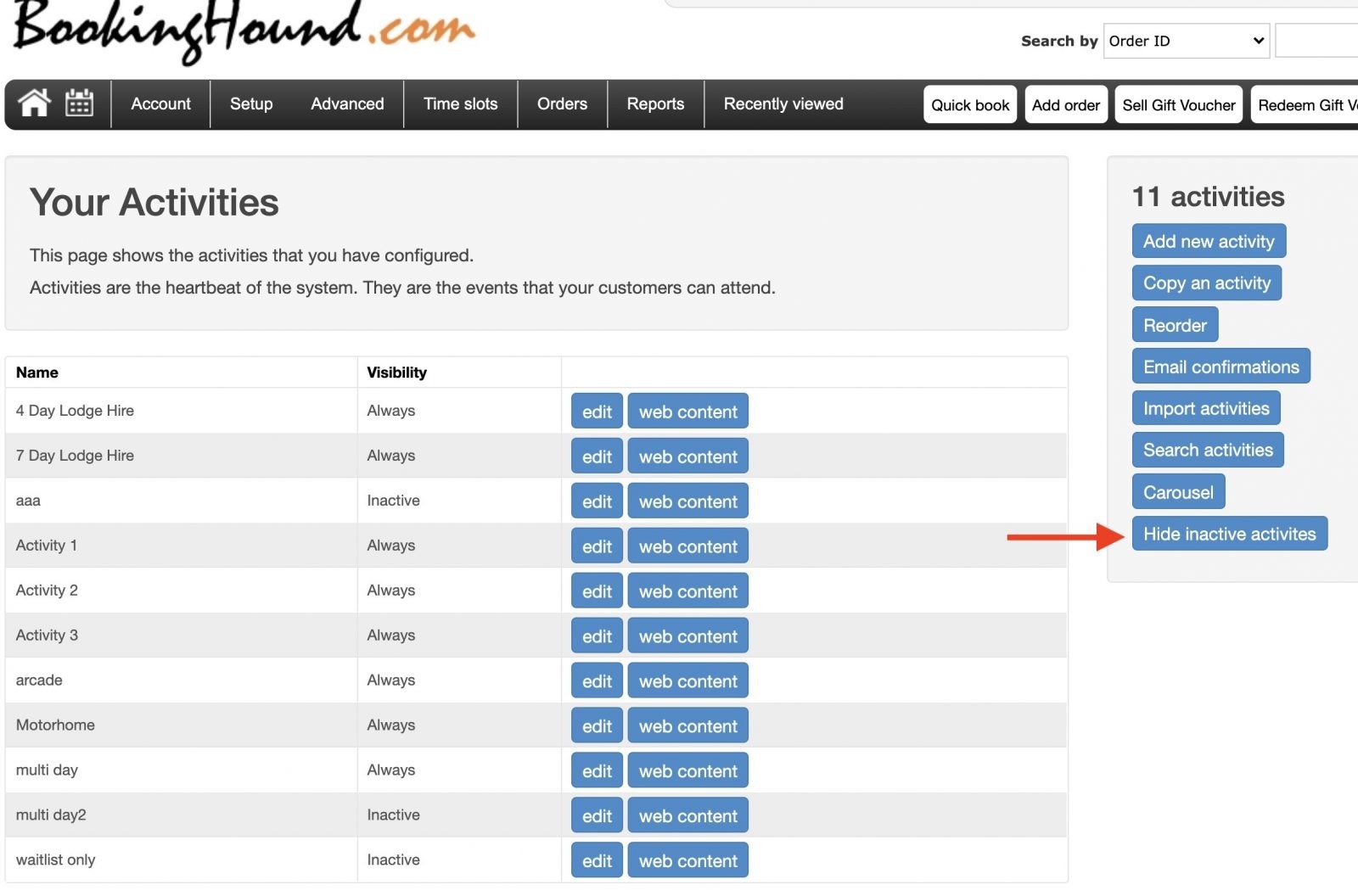 New Feature – Add Comments to Any Checkout Questions Based Page
When using our powerful checkout questions feature, its sometimes necessary to insert a comment before or after a question, possibly to help explain something on the page.
Using the new Checkout Questions, 'Comment' element, this is now quick and easy to to.
New Report – GDPR
To help simplify and report on how your customers have responded to the GDPR checkout question, you can now run a GDPR specific report that can be found in the Customer Data reports section.
New Reports – Tickets Sold on a Revenue Basis
We have introduced 2 new Enteprise & Freedom plan reports, Revenue by Ticket Type and Daily Revenue by Ticket Type. Both of which can be found in the Revenue reports section.
New Feature – Pre-Announcement
We are excited to announce that we will be very soon launching a new and powerful sales development tool – 'Channel Manager'.
This brand new feature will enable you to push out and publish your content as well as take live availability bookings from over 70 leading destination marketing organisations and OTA's.
Please let us know if you would like to amongst the first to be updated about this new feature. If so, please email: letstalk@bookinghound.com
About BookingHound.com
Award winning, with clients across the globe and servicing multiple markets, BookingHound.com develops, sells & manages a real-time, SaaS online booking & business management system that provides an extensive range of business development, sales, marketing and reporting features for Activity, Event, Tour and Training organisations. BookingHound.com aims to exceed customers' expectations by offering an ever-evolving, feature-rich, SaaS business application in a cost effective manner whilst focusing on generating high levels of customer satisfaction.
BookingHound.com's online booking system, together with its management experience and real-world industry expertise, offers tremendous added value in supporting customers, helping them achieve their business goals. BookingHound.com's intention and key design goal from its business inception was to build a one-size-fits-all booking platform that is accessible to everyone regardless of the size of their business or complexity of needs.
To contact BookingHound.com, email letstalk@bookinghound.com or call +44(0)208 731 4343