Online booking system, memberships & everything in between
Everything you need
& so much more...
Sell on your terms, be in control and never let your tools hold you back again
BookingHound gives you everything you need and so much more to run and grow a successful business online.
Sell tickets online with more flexibility than any other system on the market. Offer the ability to add-on merchandise, memberships, up-sell other tickets or offer different payment options and plans. Whatever you need to do, we've got you covered. More than just an online booking system use BookingHound to create reports to drive insights and smart decisions that other systems won't give you access to.
Get set up quickly and use as you need with free plans or flexible pricing options. Get expert advice on setting up your business to maximise revenue-generating features and admin-busting tools.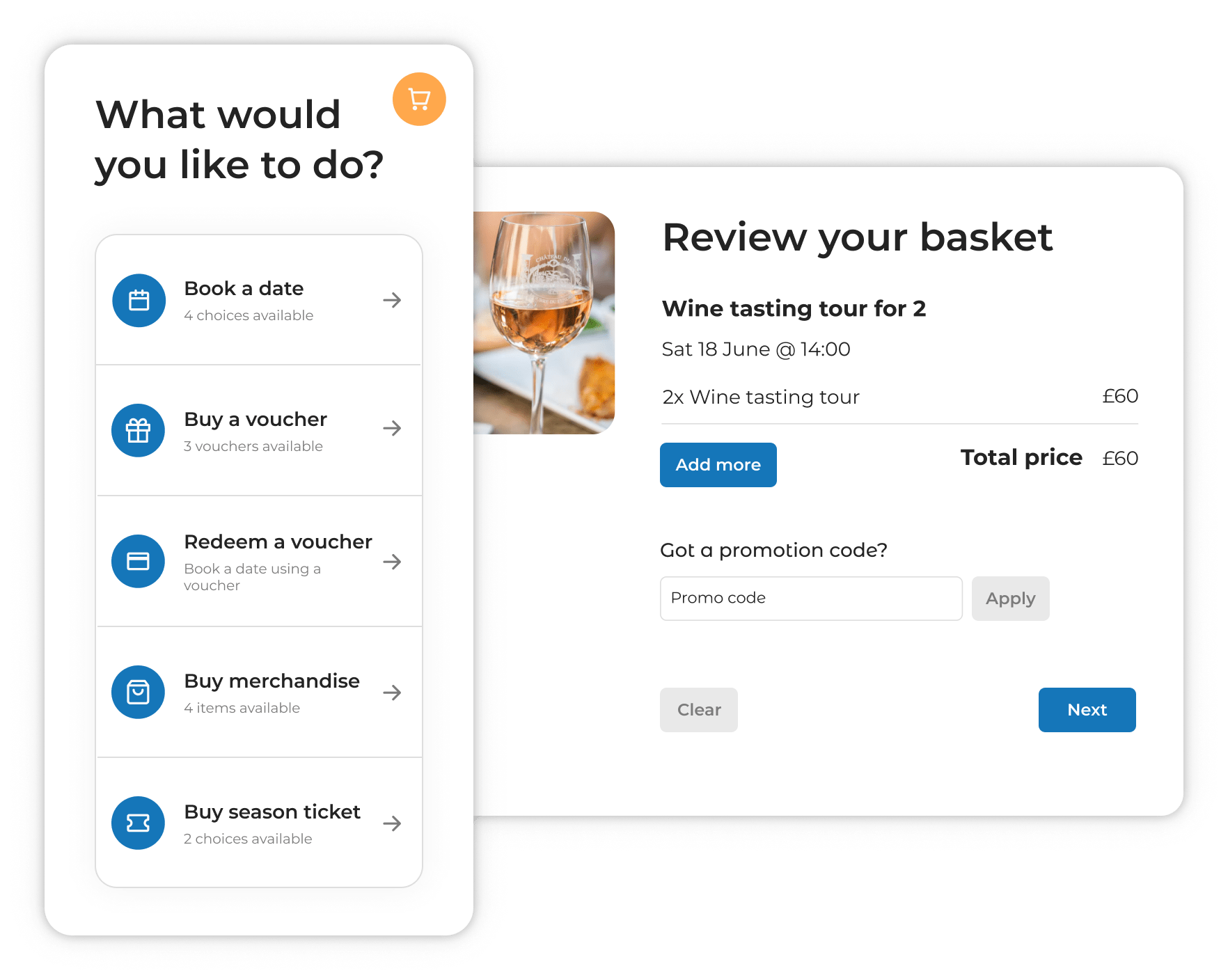 Create your booking system using our user friendly setup wizard
You'll be selling online in minutes
Plug & Play booking widget
Simply plug our booking widget into your existing website and start receiving bookings today (No IT skills required)
Cross browser compatible
Our mobile friendly adaptive designed widget performs across all browsers, PC's, tablets and all mobile devices
Receive online payments
Offer different payment plans and deposits to maximise bookings
With
BookingHound

you can start immediately!
It's as EASY AS 1 – 2 – 3
Using our super simple Set-Up Wizard. Be ready to sell in minutes!
The wizard will guide you through creating your activities, time slots and pricing.
Using Bookinghound's business development & marketing tools.
Make empty seats a thing of the past with Bookinghound's business development tools.
Clients, availability, bookings & comprehensive reporting.
Easy to use client / booking management - all from one simple to use admin area.
Get going quickly with our easy to use set-up Wizard
Add your logo, images and colour scheme to match your business branding
Let us connect you with Stripe to start accepting payments immediately
Create UNLIMITED everything including Activities, Tickets Types and Users
Grow your sales with:
E-vouchers / Upsale Extras / Promotional Codes
Expand your sales channels:
Sell to 3rd Party Resellers / Agents
Build your profits with:
• Processing or Surcharge Fees
• Variable Pricing
• Enhanced Business Rules & Capacity Management
Stay in control with:
Cut-off sales rules & Deposit payments
Reporting and Accounting:
Full Business Reporting Live Calendar Bookings Sales Management Dashboard
Easy Arrivals with:
Pre-completed Checkout Questions, Digitally Signed Waivers and QR Code Check-ins
Customer communication:
Email reminders, post event thank you emails and online customer surveys
Get started with BookingHound is easy