Now that you have your online booking system, you now want exposure and for customers to find your website in order to make a booking.
Everyone talks about it, everyone has an opinion about it, so what is Search Engine Optimisation? (SEO) and how can it help you? Here is an overview of what SEO is and how it works…
The internet is a massive expanding open market with over 21 billion web pages indexed within search engines. These search engines are the easiest way to communicate with your business' target audience, allowing you to sell your products or services directly to potential customers through engines such as Google and Yahoo. Search engines offer free exposure, promoting your company brand, products and services to a regional, national and international audience.
What is SEO?
Search Engine Optimisation is a technique aimed at improving the ranking of your website in the results of search engines (Google, Bing, Yahoo). SEO can make a world of difference to the presence and success of an online business and with increased online exposure come increased website enquiries and greater business success. By optimising the site's code and its content to maximise the levels of site visitors and enquiries, SEO can build awareness of a business and the activity surrounding it. Being seen by the right people and within the right marketplace is the key to su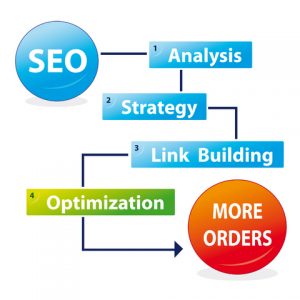 ccess.
Every search engine has its own algorithm, or process, for determining where your pages rank for a particular search term. But, there are common elements to many of them.
On-page SEO
Firstly, "On Page" factors vary from engine to engine but the position of keywords (where they appear) is the most important. If the phrase appears in headings, page titles and other key areas on the page, a search engine will see this more relevant.
Off-page SEO
Secondly, "Off Page" factors and link popularity contribute significantly to your page's ranking. This is because good web sites usually have other sites linking to them. You will discover the importance of both factors throughout this document.
Paid Ads
For paid listings such as 'Pay Per Click' advertising (PPC), your listings are displayed through search results such as Google Adwords which will put you high up on the listings. Unfortunately, when you stop paying for this service your website can disappear completely. If you use Organic Search Engine Optimisation you improve your website's listings in the main search results area. Longer-term, it is more cost-effective than using Pay Per Click advertising.
Never the less, when looking at your SEO strategies you have to look at what your long term and short term aims are and try and combine the two. If your strategy is well planned and cleverly executed then your website traffic and online booking sales will improve.<<<