BookingHound is delighted to announce its integration with Zoom, a World leading video conferencing platform synonymous with the new way of running seminars, training events, business meetings and catching up with family and friends during the current Covid pandemic.
What does this mean for you ?
Our integration with Zoom makes it easy for you to schedule and optionally charge for a Zoom class, meeting, seminar or activity.
Sessions can be run from one to an unlimited amount of customers depending on the format required.
This means you can incorporate BookingHounds extensive and powerful online booking features to simplify your processes for:
• End to end booking
• Payment collection
• Scheduling and
• Customer communication
How to integrate with Zoom
1. Simply click on the ZOOM button in 'Your Settings' and enter your Zoom account details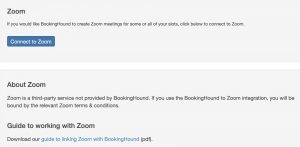 2. Within each individual activity, if the 'Create Zoom meeting for each slot' option is checked, BookingHound will automatically create a new Zoom meeting when you receive your first new booking.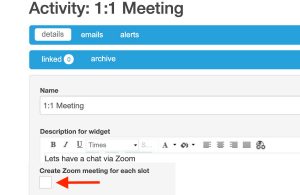 The Zoom meeting link will be embedded in the booking confirmation as well as any optional reminder emails sent to your customer(s).
The Zoom meeting ID is also displayed in the slot details within the BookingHound slot calendar as well as your own Zoom dashboard.
Making it easy
With the BookingHound-Zoom integration, we have designed the process to make it easy as possible for you to not only get paid for new bookings but also to reschedule them whilst always being fully linked to your Zoom account.
BookingHound added value
BookingHound's development team are relentless in bringing the latest tools and technology to its users, facilitating options for online incremental revenue streams for training, tours, meetings and consultancy etc.
In summary, BookingHound's extensive and powerful online booking features are combined with a market leading visual communication platform, enabling businesses to explore new and exciting ways to interact with its clients as well as helping grow and develop new revenue streams.
No matter what your customers want to book, having a feature rich online booking system will be a great addition to your organisation. 
Please email letstalk@bookinghound.com or click here to book your personal 1-to-1 demo of our system.